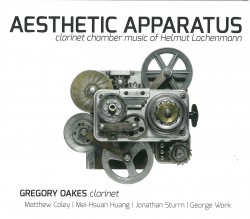 Aesthetic Apparatus – Clarinet Chamber Music of Helmut Lachenmann
Gregory Oakes; Matthew Coley; Jonathan Sturm; Mei-suang Huang; George Work
New Focus Recordings FCR196 (gregoryoakes.com)
Utter the name Helmut Lachenmann in a loud stage whisper, being sure to accentuate fully the consonants, exaggerating the different vowel colours, and you'll have an idea what it is like to perform his music. He asks performers to make varying sounds which require a complete rethinking of one's technical approach. Lachenmann, Maurizio Kagel and Heinz Holliger have led the way to innovative notations depicting the strange breath effects, kisses, clicks, squeaks and honks they demand from performers.
In Aesthetic Apparatus, clarinetist Gregory Oakes has compiled three substantial chamber works by Lachenmann. The first, Dal Niente, for solo clarinet, is an extension of silence into a variety of soundscapes. Oakes conveys conviction that all the sounds he generates belong in a congruent whole, and with more hearings I'm certain I'd agree. What is unusual in this recording is the extended periods of nearly empty time, where the effects produced might be more easily perceived if one could see them produced. It takes chutzpah to publish this performance on a sound-only recording.
Trio Fluido, for clarinet, viola and percussion, provides a richer soundscape, although the writing is still full of attenuated pauses. Early exchanges between the instruments seem full of repressed violence, which occasionally breaks out into outright hostility. Beyond this, there are delightful moments of simply elegant trialogue, as if three species of creature are employing their various intelligences to match one another's language.
Allegro Sostenuto, for clarinet, cello and piano, completes this wonderful exploration. I use the term "tonal" modified by "somewhat more" to indicate that in contrast to the first two tracks, this work exploits more interplay between pitches than raw sounds, making it perhaps the most immediately listenable.