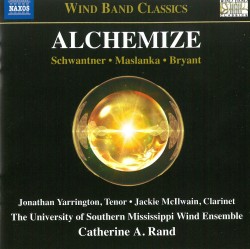 Alchemize – Music for Wind Band
U of Southern Mississippi Wind Ensemble; Catherine A. Rand
Naxos 8.573587 (naxos.com)
This album from the Naxos Wind Band Series features performances from the University of Southern Mississippi (USM) Wind Ensemble of two substantial works from a pair of eminent American composers, both born in 1943. Joseph Schwantner's Luminosity is subtitled "Concerto for Wind Orchestra." The opening movement, marked spiritoso e energico, pretty well sums up the essence of this composer's upbeat style. The work brings the percussion section up front (literally) from the get-go, though the introspective middle movement is in effect a clarinet concerto featuring USM clarinet professor Jackie McIlwain. The finale turns the spotlight back on the drum line to mercilessly aggressive effect – are you ready for some football? Not I!
By contrast, the seven movements of David Maslanka's Hosannas strike an elegiac tone. Writing in an unabashedly tonal language, Maslanka composed over 50 works for wind ensembles before his unexpected demise last year; the album is dedicated to his memory. Chorale tunes and similar simple melodies abound in this kaleidoscopic work. The disc concludes with a tantalizing fragment of a work by Steven Bryant (born 1972), the first movement of his Alchemy in Silent Spaces, which unfolds from an extended introduction for piano and pitched percussion instruments to eventually reveal the full ensemble. It's a pity we don't get to hear the full potential of it; at a miserly 54 minutes the disc certainly has room to spare. Marching bands and their more refined cousins, wind ensembles, number in the thousands in the USA. Judging from the evidence of this disc the USM ensemble belongs among the elite of the order.