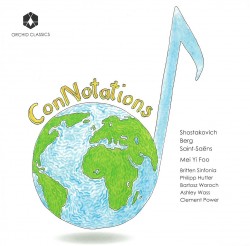 ConNotations
Mei Yi Foo; Philipp Hutter; Bartosz Woroch; Ashley Wass; Britten Sinfonia
Orchid Classics ORCH100065 (orchidclassics.com)
ConNotations is a very impressive disc. It features pianist Mei Yi Foo with a trumpeter (Philipp Hutter), a violinist (Bartosz Woroch) and another pianist (Ashley Wass) together with the Britten Sinfonia conducted by Clement Power. The superlative recording owes much, first, to the choice of repertoire. The Shostakovich Piano Concerto in C Minor Op. 35 for strings, piano and solo trumpet is a combination as unusual as the concerto's form, which consists of four through-flowing movements which sound like just one. Foo's playing makes the music rise up like a ferocious beast and both Foo and Hutter are brilliant throughout.
On Alban Berg's Chamber Concerto for piano and violin with 13 wind instruments there's a fruitful tension between the soloist's expansive Romanticism and the no-nonsense rigour of Power, a tension that matches the composer's ideals. Berg restricts the concerto's accompaniment to 13 wind instruments, yet he ingeniously produced some marvellously unusual colourings. Foo's piano is given the solo duties in the first movement, Woroch's violin in the second and then they finally combine together in a show of rousing, immediate expressiveness in the finale.
While Camille Saint-Saëns may have written The Carnival of the Animals mainly for the amusement of his friends in 1886, its serious beauty should never be underestimated. In the hands of Foo and Wass there are moments of great magic, with the most beautiful and spectacular of all heard during the rippling arpeggios of the mysterious Aquarium (VII).