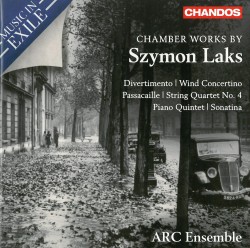 Chamber Works by Szymon Laks
ARC Ensemble
Chandos CHAN 10983
In 1942, Polish-Jewish composer Szymon Laks was deported to Auschwitz. Few prisoners survived that place. But, remarkably, the Nazis' demands for Laks' skills as a violinist, copyist, arranger and conductor kept him alive, as he explains in his harrowing, brilliant memoir.
This collection of his music is the third in the ARC (Artists of The Royal Conservatory) Ensemble's Music in Exile series recovering lost works by composers suppressed by Hitler's regime. Laks suffered dreadfully during the war, yet his continued neglect afterwards is certainly undeserved. His music may not be groundbreaking, but it is inventive, with alluring melodies, exciting rhythmic sequences, shifting moods and luminous harmonies.
The String Quartet No.4 deserves a place in every quartet's repertoire. In fact, all six of the works on this disc merit frequent performances and recordings, including the lively, angular Divertimento, the rhapsodic Sonatina (one of the few works by Laks to survive from before the war) the tender Concertino, the poignant Passacaille and the Piano Quintet on Popular Polish Themes, brimming with vivid character.
These are all premiere recordings, though some works were previously recorded in different versions, and the Quartet No.4 is just out on a welcome new recording of Laks' three surviving string quartets by the Messages Quartet (DUX 1286).
The members of the ARC Ensemble (Joaquin Valdepeñas, clarinet; Erika Raum, Marie Bérard, violin; Steven Dann, viola; Winona Zelenka, cello; David Louie, Diane Werner, piano; Sarah Jeffrey, oboe; Frank Morelli, bassoon) are all notable soloists who teach at the Royal Conservatory's Glenn Gould School. Laks provides plenty of opportunities for each to shine individually. But it's their thrilling ensemble work that makes the most compelling case for Laks' music.