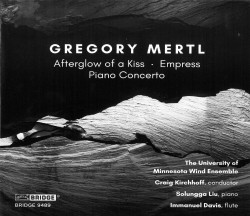 Gregory Mertl – Afterglow of a Kiss; Empress; Piano Concerto
Solungga Liu; Immanuel Davis; University of Minnesota Wind Ensemble; Craig Kirchhoff
Bridge Records 9489 (bridgerecords.com)
Ever-changing restless rhythms, often punctuated by sudden blasts of brazen colour, make these works by American Gregory Mertl (b.1969) compelling listening, even throughout the 42-minute duration of his Piano Concerto.
In the CD booklet, Mertl writes that he intended "to subvert" the traditional model of a piano concerto in which the "pianist is hero," choosing instead to "compose a concerto where the soloist would discover herself over the course of the work." His Piano Concerto certainly sounds different – not least because the accompanying winds and percussion, lacking strings, create an icy, "heavy metal" backdrop for the piano, strongly played by Solungga Liu.
Jagged, almost jazzy syncopations dominate the Piano Concerto's first and third movements. The second movement, the longest at 17 minutes and the only movement with a title – Coupling – is a slow, seemingly improvised ambulation by the piano with the orchestra providing chordal pedal points and, as in the outer movements, occasional declamatory outbursts.
The sprightly seven-minute Afterglow of a Kiss for solo flute (Immanuel Davis), winds, strings, harp, celeste and percussion shares the Piano Concerto's sense of improvisation, busy rhythms and glittery sonorities. I found the atmospheric, 12-minute Empress for winds, strings, harp and percussion particularly evocative, with melodic threads continually emerging from and disappearing into a tapestry of timbres.
Mertl's distinctive style here receives vivid support from conductor Craig Kirchhoff, who commissioned the Piano Concerto, and the University of Minnesota Wind Ensemble.