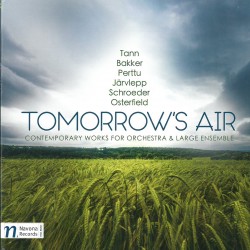 Tomorrow's Air – Contemporary Works for Orchestra & Large Ensemble
Various Artists
Navona Records NV6108
(navonarecords.com)
Here is a go-to music release for anyone in love with dramatic, expressive orchestral music with lyrical string melodies and dense harmonies, as six composers take a compositional approach to what the future may bring.
Each work is a unique personal musical exposé. Hilary Tann's Anecdote is inspired by Wallace Stevens' poem Anecdote of the Jar. Lush orchestral harmonies support the mournful yet positive solo cello lines, which span a wide pitch range with glorious low tones. Hans Bakker's Cantus is equally expressive, with a driving rhythm pitted against an uplifting happy string melody. Inspired by William Blake's poetic ode, Daniel Perttu's To Spring – An Overture is another majestic lyrical work, with an especially gratifying, almost chromatic melody in the middle section. My highlight is Canadian composer Jan Järvlepp's moving In Memoriam in memory of his late brother. Drawing on more original atonal harmonies, his grief is aurally depicted by high and low strings in the emotional conversational contrapuntal sections, and the heart-wrenching final repeated notes. The lush strings, clarinet and piano of Pierre Schroeder's Late Harvest create a film-score-reminiscent sound that swells with simultaneous sadness and hope. Flute and piccolo perform lyrical and tricky melodic lines against energetic percussion in Paul Osterfield's Silver Fantasy. Love the playful, almost marching band section at the end.
Excellent performances drive the music, especially the four works with the Moravian Philharmonic Orchestra. Tomorrow should be perfect if the music here is any indication!