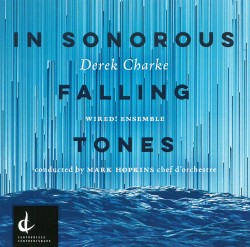 Derek Charke – In Sonorous Falling Tones
Wired Ensemble; Mark Hopkins
Centrediscs CMCCD 23917 (musiccentre.ca)
This CD is unique in that all the music performed on it is by one composer, Derek Charke, who is also the flute soloist in three of the four works and a member of the ensemble in the fourth.
As a composer, Charke understands that building music around arresting melodic/rhythmic patterns which lead to/are followed by contrasting arresting melodic/rhythmic patterns produces results which are interesting and engaging. He seems to have access to an innumerable variety of patterns, from the driving pulsating opening of In Circles, the opening movement of In Sonorous Falling Tones, to the lyrical melody in Warning! Gustnadoes Ahead, the last track on the album – and lots more in between.
As a flutist his versatility is remarkable. Equally at home on the piccolo, the "regular" flute and the bass flute, he seamlessly blends conventional and extended techniques. Best of all, he puts his "pyro-technique" completely at the service of the artistic ends of the music, as in Lachrymose, where singing while producing multiphonics on the piccolo brings this elegiac work to a stirring climax.
The WIRED! Ensemble, which plays with Charke as soloist, in In Sonorous Falling Tones and Warning! Gustnadoes Ahead, and in which Charke plays as a member of the ensemble in What do the Birds Think?, is perfect, matching Charke's energy and intensity at every step.
Bravissimo! This is contemporary music-making at its best. Good things are happening in Wolfville, Nova Scotia.