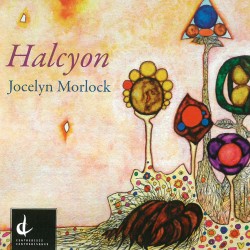 Jocelyn Morlock – Halcyon
Various Artists
Centrediscs CMCCD 23817 (musiccentre.ca)
With Halcyon, JUNO-nominated Canadian composer Jocelyn Morlock explores her compositional voice over seven substantial works from voice accompanied by piano to orchestra. Let's give a listen.
Halcyon, warmly performed by cellist Ariel Barnes with Corey Hamm on piano, is a slow tonal elegy. It takes as its extra-musical theme the mythic tale of the kingfisher Halcyon. The composer tells us in the liner notes that the next work Vulpine, brought to life by violinist Nicholas Wright and Hamm, plays on the many characteristics associated with the fox.
With Shade, the cello is back, this time supported by Vern Griffiths on vibraphone. Morlock enigmatically remarks on the multiple meanings of shade, and "Hades, a disembodied spirit" in her liners.
Two song cycles follow. The three Involuntary Love Songs are sung by contemporary music specialist soprano Robyn Driedger-Klassen, the six Perruqueries by Driedger-Klassen and baritone Tyler Duncan, plus the stand-alone song Somewhere Along the Line by Driedger-Klassen. Erika Switzer provides the muscular piano framework throughout. The amusing lyrics for the Perruqueries set – about wigs and the people who love them – were provided by the Canadian author Bill Richardson. After hearing Morlock's offerings here, I'll pay closer attention to the recent reemergence of Canadian art song.
The album wraps with Aeromancy, an airy, loose-limbed two-movement laconic – at times mysterious – double concerto. Ariel Barnes and Joseph Elworthy spin emotive cello melodies, while the Vancouver Academy of Music Symphony Orchestra, conducted by Leslie Dala, provides pastel colours over a firm harmonic base.