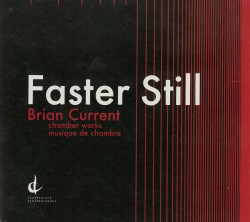 Brian Current – Faster Still
Various Artists
Centrediscs CMCCD 24217 (musiccentre.ca)
This recording is a timely reminder of the significant work that Brian Current is doing as a composer and conductor, and the excellent performance standard of three of Toronto's leading new music ensembles.
The CD opens with an attractive short scena from 2006 – Inventory – with soprano Patricia O'Callaghan as a shoe salesperson, letting her imagination wander. The clever text is by Anton Piatigorsky and the Soundstreams ensemble (conducted by Current) features fine playing by some of Toronto's top players. O'Callaghan's poignant and whimsical performance is a highlight of the disc.
Faster Still, Strata and Shout, Sisyphus, Flock are three substantial instrumental works given superb performances here by the ensembles of Duo Concertante/Blue Engine String Quartet, Continuum Contemporary Music and New Music Concerts respectively. All three works are vital and intense and illustrate Current's mastery of ensemble colour and aural imagery.
The Duet for Cellos, originally written in 2007 and revised in 2016, is an effective contrast in the middle of the program. Cellists Amahl Arulanandam and Bryan Holt give a sensational performance of this short, compelling work. The final track Circus Songs is a thrilling early piece for a mixed quintet that takes the listener on a wild ride and features great playing from all the performers. I especially loved pianist Stephen Clarke's muscular "freak out" near the end.
It was a pleasure to get to know Current's music better through this fine CD. He is a bold, uncompromising, highly skilled composer with much to say.