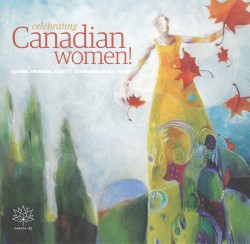 Celebrating Canadian Women!
Laurel Swinden; Stephanie Mara
Independent LBSCD2017 (musiccentre.ca)
Flutist and University of Guelph flute professor Laurel Swinden and pianist Stephanie Mara have teamed up to record this new CD of music by Canadian women, introducing composers and music new to many of us. Swinden's playing is consistently first-class – great sound with flawless intonation and articulation. Mara is her equal all the way, playing like a soloist when that is required – and there are at times some devilishly difficult solos for the pianist – and stepping back when needed.
The program includes two sonatas, one by Quebec composer and organist extraordinaire Rachel Laurin, the other by composer and pianist Heather Schmidt. Both sonatas, oddly enough, have cadenzas which are, in my opinion, some of the best writing in these pieces, and which Swinden plays with great confidence and verve.
I had the same response when hearing the opening of the Schmidt Sonata and the opening phrases of Alice Ho's Suite for Flute and Piano: "What a composer!" Both bristle with excitement and virtuosity, demanding that the performer go to a stratospheric energy level. I was struck by how idiomatic Schmidt's writing was for the flute. The second movement's kaleidoscopic changes of mood are virtuosic feats of composition. While Swinden excels in this exciting and treacherously difficult music, she also shines in the more lyrical, like Jean Coulthard's Music on a Quiet Song, which she plays with great artistry.
This CD brings together artistry and artistic leadership. Well done!