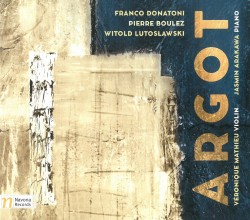 Argot
Véronique Mathieu; Jasmin Arakawa
Navona Records NV6105 (navonarecords.com)
Canadian violinist Véronique Mathieu has positive mojo in spades: chops to burn, rock solid musicianship, solo and concerto gigs around the world and a doctorate in music. Not taking the typical path, Mathieu has chosen to play, commission and record primarily contemporary music, mostly by American and Canadian composers.
In Argot Mathieu – and Jasmin Arakawa, her pianist in the Lutosławski repertoire – has chosen a demanding program of late-20th-century classical music. She tackles substantial scores of three European heavyweights, Franco Donatoni (1927-2000), Pierre Boulez (1925-2016) and Witold Lutosławski (1913-1994).
The two-movement Argot by Donatoni definitely makes a virtuoso, dramatic statement. Brimming with a huge variety of keening timbral shifts, swift overtone-rich melodic fragments and expressive bowing and fingering, it's an impressive work and performance. Composed for Yehudi Menuhin in 1992, Boulez's Anthèmes employs extended techniques and virtuoso passagework galore. To these ears, Mathieu nails this 8'56" solo.
The album is capped by the three works by Lutosławski for violin and piano. Recitativo e Arioso (1951) is early Lutosławski, imbued sometimes with an almost folk-like lyricism. Subito (1992), on the other hand, is among the composer's last works, though in no way is it resigned. Rather, it is full of melodic playfulness with perhaps a musical tip of the hat to the Hungarian composer Béla Bartók.
Mathieu's recital closes satisfyingly with the largest work here, Lutosławski's five-movement Partita (1984). I understand it's the work on the album most often included in contemporary violin recitals. In the virtuoso hands of Mathieu and Arakawa you can clearly hear why.