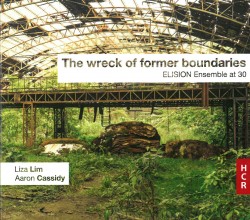 The Wreck of Former Boundaries
Elision Ensemble at 30
HCR/NMC HRC13CD (elision.org.au)
Celebrating 30 years of engagement with complex and challenging aesthetics, Australia's Elision ensemble has released The Wreck of Former Boundaries, a live recording featuring their 2016 Huddersfield Contemporary Music Festival performances of the eponymous work by Aaron Cassidy, and How Forests Think, by Liza Lim.
In his bountiful 33-minute work, Cassidy writes remarkable musical situations for Elision's consummately nimble cast. His diagonal consideration of instrumental colour facilitates their concentration on not just the notes, but continuous timbral flux expressed through idiomatically applied glissandi, pressure variance, embouchure tension and dynamic changes. In the liner notes, perhaps with benefit of hindsight, Cassidy describes the work as a double trumpet concerto, although elsewhere he calls it six stand-alone pieces that can be performed independently. It projects, however, as a fluid stream of restless, stratified solos and duos with infrequent, disjunct episodic interjections from the ensemble. Crispy, familiar electronics pursue contours of similar profile to the instrumental writing, prodigiously applied in the potent latter third of the work.
Lim's How Forests Think reflects on anthropologist Eduardo Kohn's nuanced idea of forest ecologies as intersecting communities and social networks (human and non-human). Musical identities share succulent attributes, supporting, absorbing and transferring them across the Chinese sheng and ensemble parts. Whereas Cassidy revels in anxiously winding materials through self-referential guides, Lim's understory focuses on a different manner of complexity, nourished by outward-pointing substrata that creep and trail across the work. The result is polyreferential and broad, in vocabulary and scope, with deftly probed textures propagating a vital, bifurcating soundscape.