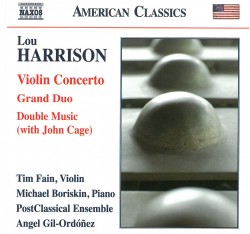 Lou Harrison – Violin Concerto; Grand Duo; Double Music
Tim Fain; Michael Boriskin; PostClassical Ensemble; Angel Gil-Ordóñez
Naxos 8.559825
This splendid CD contains two masterworks by Lou Harrison. I'm a long-time fan of Harrison and his mentor Henry Cowell, who introduced Harrison to both world music and John Cage, with whom Harrison would co-compose Double Music. (I was privileged to meet all three.)
In the first two movements of his Arabic-tinged Concerto for Violin and Percussion, the violin weaves sinuous melismas over punctuating percussion. They were composed in 1940 and revised in 1959, when Harrison added the finale, which offsets their fervent lyricism with a spirited belly-dance. Throughout much of the 20-minute concerto, Tim Fain has to play in the violin's upper register; he does so, brilliantly.
The five-movement, Indonesian-influenced Grand Duo for violin and piano (1988) lasts 35 minutes. New to me, I found every minute enthralling. The violin's long lines suggest a suling flute floating over the gamelan-like piano accompaniment provided by Michael Boriskin. A long, misterioso Prelude is followed by the up-tempo Stampede and gentle A Round. Air, the longest movement at nearly 11 minutes, is deeply downcast, similar in mood and impact to a Shostakovich Adagio. The Duo ends with the brief Polka, a lighthearted Europe-Indonesia hybrid. A great piece!
Double Music (1941), for which Harrison and Cage each independently wrote the music for two of the four players, is a long-standing percussion staple. Gil-Ordóñez's meditative seven-minute interpretation takes over a minute longer than my swinging, Cage-conducted LP version. Different, but effective.
Heartily recommended!