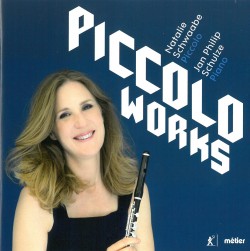 Piccolo Works
Natalie Schwaabe; Jan Philip Schulze
metier msv 28562 (divineartrecords.com)
Shrill, raucous, vulgar, strident! All too easily these adjectives seem to attach themselves to, and prejudice us against, the hapless piccolo. Yet for Piccolo Works, Natalie Schwaabe's excellent debut CD, these notions are utterly debunked. From the outset this outstanding piccoloist of the Bavarian Radio Symphony (a world's top-ten orchestra) presents a challenging and varied program of 21st-century delights, delivered with impeccable intonation, rhythmic precision, sensitive musicianship and finesse.
The opener, Levante Gyöngyösi's Sonata for piccolo and piano (2007) (rapidly becoming a staple of the canon), shows ample clarity and energy of ensemble playing with collaborator Jan Philip Schulze. This sparkling, polished team has much to offer in interpretation and excitement. Amidst the other composers' works are two originals composed for Schwaabe: Gert Wilden's sometimes sorrowful, sometimes jazzy, always melodic two and a half piece and Kanefzky's charming Pied Piper of Hamelin for flute/piccolo and narrator. Here the piccolo appears only as the magical voice of the piper's instrument while Schwaabe's nuanced command of the flute belies any myth that piccoloists are somehow less accomplished flutists. Unfortunately for unilingual audiences, Schwaabe's narration is in German.
Mower's Sonata, the perilous multiphonics of Donatoni's NIDI Mikalsen's starkly brutal Huit ilium where Schwaabe's fluid control of even the highest notes is dazzling, and the Canadian Derek Charke's wrenchingly sad Lacrymose round out this utterly brilliant CD. If this recording were to become essential listening, it would surely unfetter the piccolo from its enduring prison of prejudice.