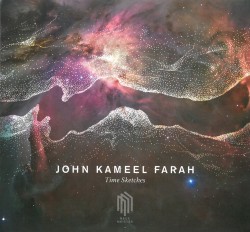 Time Sketches
John Kameel Farah
Neue Meister 03009045NM (johnfarah.com)
John Kameel Farah is a composer, pianist and visual artist who these days makes his home in both Toronto and Berlin. His piano-centric compositions have long attracted attention. During his University of Toronto music student years he twice received the Glenn Gould Composition Award.
Farah's musical influences are extremely broad and cosmopolitan. They embrace the musics of Renaissance keyboard composers, J.S. Bach, Arabic maqam, Schoenberg and Ravel, as well as that of the minimalists, free improvisation and vernacular genres such as drum and bass. He performs all of them with precision and panache. Even more surprising, perhaps: in Farah's live solo concerts he often deftly mixes many of these seemingly disparate elements, performing on piano, harpsichord, organ, synthesizer and computer. While his concerts primarily focus on his signature hybrid of composition, improvisation and electronic music, he often adds classical works, lending his programs a Euro-American historical perspective.
There is much to listen to and savour in Time Sketches. The relatively contained Behold! for piano and pipe organ is the example I'll choose to talk about today. Set in a 20-beat metric cycle, it echoes the musical vocabulary developed mid-century by the American minimalists. The effect of the music is somewhat counterintuitive; it's lilting and soft-spoken. Ending on a single, surprisingly gentle, middle-octave B-flat on the piano, it reminds this listener of mid-career Terry Riley's keyboard music. Farah had private lessons in 1999 with that pioneer minimalist master, and Behold! is a worthy miniature addition to the minimalist music canon.
I recommend Time Sketches as a worthy addition to your quality listening time.