Grace
Evergreen Club Contemporary Gamelan with Jennifer Moore & Sanctuary
Artifact Music ART 041 (artifactmusic.com)
Bridge
Evergreen Club Contemporary Gamelan
Independent (evergreenclubgamelan.ca)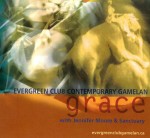 30 plus years of performing, composing and commissioning works together has completely immersed the Evergreen Club Contemporary Gamelan in the sonic possibilities of their unique orchestra. Two recent CD releases provide ample evidence of the maturity of their sonic palette.
Grace is a live collaboration with the Sanctuary Trio (bass clarinet, cello and pipe organ). These very unique timbres create an inspiring range of compositional possibilities that are fully explored in the three pieces that make up this recording. Bill Parsons' Translating Grace immediately pulls us in with a softly insistent, offbeat time-keeping underpinning a series of two-note motifs on the gamelan's various tuned percussion instruments. The texture becomes quietly denser as drums, higher melodies and suling (bamboo flute) all join in. It all slowly unravels and ends with a percussive burst that repeats and fades, echoing into the distance. We have now entered another realm… Low and ominous tones from the cello and bass clarinet underpin the sober truth-telling of the vocalist. This static, sombre mood alternates with blithe suling interjections over gamelan textures, and a loping, Dolphyesque bass clarinet solo. Dreamlike textures and odd time signatures keep us adrift. The vocalist reminds us: "Before Grace, everything slips away."
The pairing of the ECCG with the Sanctuary Trio in this setting creates a wonderfully lush and warm environment. Jeff Reilly's Meditations on Innocence delves deep into the textural possibilities of this pairing, while using ample space in the music to fully exploit the acoustics of the cathedral used for this live recording. Space is a palpable part of the texture of a slow gong ostinato, over which bass clarinet and cello take turns giving voice to the silence.
Mark Duggan's Language of Landscape begins deliberately off kilter, sounding like the wind pushing through chimes. Though the work stays very abstract, it is no intellectual exercise. It is full of feelings of questioning and yearning, expressed mainly by the cello and bass clarinet. Repetitive textures imply urban or mechanized environments. A slow one-note chiming mantra is the underpinning of dense organ clusters reminiscent of the Japanese shō. This all gives way again to fragments and gestures and is brought to a close by the organ.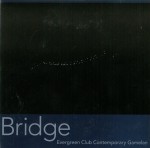 This recording is a great document of the musical sensitivities the two ensembles bring, not only to each other but to the environment in which they performed.
The ECCG's recording Bridge is an ambitious project, years in the making. Citing various Indonesian sources as inspirational starting points, original lyrics were composed, and arrangements using the gamelan as well as western strings, guitars and turntables were written. The music is definitely accessible to those not familiar with the sounds and structures of Indonesian music; striking the right mood between instruments and sensibilities is the real accomplishment here. However, the inclusion of an arrangement of Joni Mitchell's Both Sides Now seems transparently aimed at getting airplay (Canadian content x2!). Though cleverly arranged, it is rather saccharine, and I find it disruptive to this collection of otherwise interesting experiments.