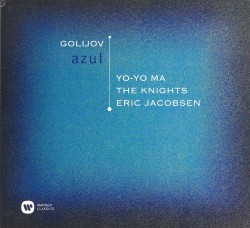 Golijov – Azul
Yo-Yo Ma; The Knights; Eric Jacobsen
Warner Classics O190295875213 (theknightsnyc.com)
The Knights is a collective of younger generation New York-area musicians specializing in programs that encompass received classics of Western music as well as embracing vernacular and world-music genres. The orchestra is led by artistic directors and brothers, Colin and Eric Jacobsen.
This CD begins with Ascending Bird, a reimagining of a Persian instrumental folk tune by Iranian musician Siamak Aghaei and The Knights' principal violinist Colin Jacobsen. Jacobsen's initial solo evocatively imitates the Persian kamancheh's ornaments and melodic gestures in a languid rubato before the drum section kicks in. The second half of Ascending Bird is marked by straightforward harmonic changes elaborated by swooping melodic fragments and highly saturated orchestration.
The title track of the CD is Osvaldo Golijov's Concerto for Cello "Azul" (2006), composed for and performed by master cellist Yo-Yo Ma. Partly inspired by a poem by Pablo Neruda, it's a major statement extending over four movements lasting over 26 minutes. The first movement Paz Sulfúrica evolves from a falling minor second interval in the strings, elaborated by Ma's beautifully rendered sustained cantabile tonal cello melody, flecked with instrumental birdsong.
The work's last movement Yrushalem, initially recaps the first movement, but eventually explodes in two brass-heavy climaxes, twin codas titled Pulsar and Shooting Stars. The second coda is perhaps the most cosmic-sounding and impressive moment of the work, in which the eerie denatured music very slowly disappears into the sonic ether.