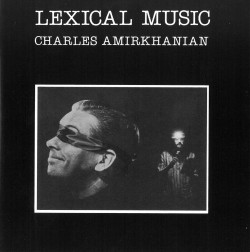 Lexical Music
Charles Amirkhanian
Other Minds OM 1023-2 (otherminds.org)
Composer Charles Amirkhanian's Lexical Music, originally released as an LP in 1980, was quickly recognized as a milestone in the emerging American text-sound poetry scene. Its roots can be traced to the European Futurist and Dadaist movements whose participants first pioneered several forms of sound poetry after World War I. In the late 1960s and 1970s this work was further developed in electronic music studios across Europe, especially in the well-equipped Swedish public-radio studios.
The performance genre trolling the borders between music and poetry also had a few key early American practitioners. William S. Burroughs' audio cut-ups and the early tape loop experiments of Steve Reich, Terry Riley and Pauline Oliveros come to mind. California-native Amirkhanian was also an early adopter. He participated in the 1972 Text-Sound Festival in Stockholm where he was introduced to the European sound-poetry scene. He soon adopted the moniker "sound-text composer." Amirkhanian's support of the genre through his position as music director of Berkeley's KPFA-FM Radio helped enrich the ground for the production and reception of text-sound work on the West Coast.
I should add that Canadian poets also played an early and significant role in the genre. For example, Steve McCaffery and bpNichol were among the local poets instrumental in organizing the ambitious seven-day Eleventh International Sound Poetry Festival (1978) held in Toronto.
Amirkhanian's landmark recording Lexical Music, sensitively remastered from the original analogue tapes, is accompanied by two informative critical essays in the 31-page booklet. Amirkhanian also serves as the primary vocalist on the album. His percussionist training coupled with his mellow, articulate, radio voice lends rhythmic precision, polished tone and a sense of gravitas to his recordings.
Through extensive repetition and stereo-channel (dis)placement, individual words are bleached of their usual meaning. Non-sequitur text-phrases are transformed into hypnotic washes of pure music. Amirkhanian masterfully challenges and plays with the borders between intelligible text and organized sound throughout the six works here. Just try to get the 2'02" Dutiful Ducks (1977) out of your mind once you've heard it.