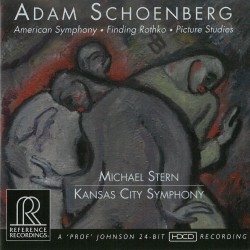 Adam Schoenberg – American Symphony; Finding Rothko; Picture Studies
Kansas City Symphony; Michael Stern
Reference Recordings RR-139 SACD (referencerecordings.com)
Another Schoenberg? Anyone who thinks even one is too many can relax, as Adam Schoenberg (b.1980) bears no relation to Arnold, genealogically or musically. Currently teaching at Occidental College in Los Angeles, he's a rising star, his tonal, tuneful, colourfully scored music performed by orchestras across the US.
Schoenberg composed Finding Rothko (2006), depictions of four Rothko paintings, while a doctoral student at Juilliard, mentored by John Corigliano. The music successfully mirrors Rothko's art – atmospheric, meditative and imposing, with shimmering colours that effectively play against each other in unexpected ways.
Schoenberg's five-movement American Symphony (2011) begins and ends with buoyant optimism, powered by quasi-minimalist ostinatos. Two solemn, slow movements, built on sustained Coplandesque pastoral harmonies, frame the jazzy, syncopated middle movement. Schoenberg says, "I set out to write a modern American symphony that paid homage to our past and looked forward to a brighter future." Indeed, it all sounds very "American."
In 2011, the Kansas City Symphony and the city's Nelson-Atkins Museum commissioned Schoenberg to compose "a 21st-century Pictures at an Exhibition," based on pieces in the museum's collection. Picture Studies (2012) depicts paintings by van Gogh, Kandinsky, Miró and Albert Bloch, a Calder sculpture and three photographs. The brilliantly orchestrated music is variously perky, sentimental, vehement and exultant.
Conductor Michael Stern elicits playing with rhythmic brio, precision and wide dynamics in these audience-pleasing works. Whether Schoenberg can create music that digs deeper than "audience-pleasing" still remains to be heard.