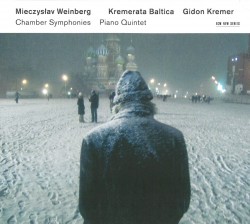 Mieczyslav Weinberg – Chamber Symphonies; Piano Quintet
Kremerata Baltica; Gidon Kremer
ECM New Series 2538/39
Review
In his late 60s, Mieczyslav Weinberg began reaching back over 40 years, transforming three unpublished string quartets into three Chamber Symphonies for string orchestra, making numerous changes and composing new movements for each. Many Hindemith-like neo-Baroque melodies and sequences indicate Weinberg's early stylistic orientation.
Chamber Symphony No.1 (1986) is sunny, graceful and dance-like, its Presto finale resembling an episode from Prokofiev's Romeo and Juliet. No.2 (1987) is darker and more dramatic, the newly composed middle movement a wry Mahlerian ländler. No.3 (1990), based on a quartet from 1945, is darker still, its first and third movements sombre reflections of their wartime origins. The vigorous second movement suggests the influence of Shostakovich, Weinberg's friend and mentor whose stylistic fingerprints cover many pages of Weinberg's scores, including the newly composed, eerily haunting Andantino that ends No.3.
As much as I enjoyed No.3, I was unprepared for the emotional impact of Chamber Symphony No.4 (1992), Weinberg's last completed work, containing quotations from several of his mature compositions. Here, Weinberg truly sounds like no one else but himself. In this profoundly affecting music, I hear a lifetime of experiences – long-ago loves, losses, pleasures and griefs, the klezmer clarinet an aching echo from Weinberg's childhood in Poland, before he fled the Nazis to live in Russia. I consider it a masterpiece.
Weinberg's youthfully robust Piano Quintet (1944), arranged by Weinberg enthusiast Gidon Kremer and percussionist Andrei Pushkarev, completes this very significant and satisfying 2-CD set.