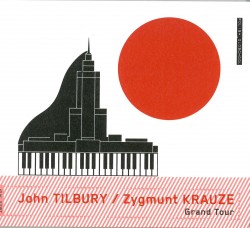 Grand Tour
John Tilbury; Zygmunt Krauze
Dux DUX 1288 (dux.pl)
Maybe it's just me, but I find this album of 60s and 70s post-classical piano-centric music a supremely relaxing listening experience. Then again as a high school senior I used to do homework with John Cage records playing on the stereo. I wanted to get my modernist/postmodernist cred clearly on the table before digging into details of this Grand Tour. It documents the onstage reunion of two old colleagues, the British pianist John Tilbury and Polish composer, educator and pianist Zygmunt Krauze in the studio of the Polish Radio, performing repertoire from the era when they first met.
The liner notes narrate the backstory. Krauze co-founded the avant-garde-leaning Warsaw Music Workshop in 1967 along with other musicians. Tilbury. who was in Warsaw on scholarship at the time. is credited with introducing his Music Workshop colleagues to the latest classical music trends via scores – a scarce commodity behind the Iron Curtain in the 1960s – "including many minimalist compositions." These represented an exciting though quite unknown language there at the time.
All the works here bear repeated pleasurable listening, but my favourite track on the album is Terry Riley's Keyboard Studies No.2 (1965), in which the two pianists play through a series of notated modal cells of different lengths at their leisure. It's a repetitive developmental strategy Riley also employed in his better-known In C (1964). It may well have been among the pieces introduced by Tilbury to his Warsaw friends back in the day. Keyboard Studies No.2 receives a lovely, nuanced performance by Tilbury and Krauze. Perhaps it's a fanciful notion, but I imagine its sonic patina, coloured by the canny application of the pianos' sustain pedal, is more deeply the result of half a century of living with and performing this charming music. For me 60s-era Riley will never get old.