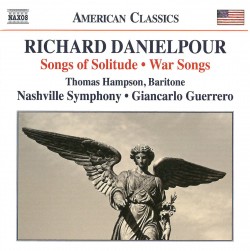 Richard Danielpour – Songs of Solitude; War Songs
Thomas Hampson; Nashville Symphony; Giancarlo Guerrero
Naxos 8.559772
On the day the Twin Towers fell, Richard Danielpour was at the composers' retreat in Aaron Copland's former Peekskill, NY, home. His artistic response to 9/11 was to begin work on Songs of Solitude, settings of six scathing Yeats poems. Danielpour's melodic, rhythmic and colouristic predilections link him to Copland and Bernstein, two fellow New York-based composers of Jewish ancestry. Echoes of Copland appear in the cycle's orchestral opening and closing; Bernstein is channelled in the jazzy Drinking Song. The longest song, lasting nine of the cycle's 28 minutes, sets Yeats's most famous poem, The Second Coming, but the music fails to match the power of these often-quoted lines.
There's power aplenty, though, in War Songs (2008), inspired, writes Danielpour, by photographs of young soldiers killed in Iraq. Set to haunting Civil War poems by Walt Whitman, four dirge-like, elegiac songs precede the shattering final song, Come up from the Fields Father, at 11 minutes, nearly half the cycle's duration. I was left both shaken and stirred.
Both cycles were composed for baritone Thomas Hampson, here in characteristically fine voice, fully expressive of the words (texts are included).