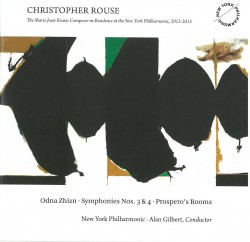 Christopher Rouse – Odna Zhizn; Symphonies 3 & 4; Prospero's Rooms
New York Philharmonic; Alan Gilbert
Dacapo 8.22611 (dacapo-records.dk)
Rouse is the most recent to hold the composer-in-residence position at the New York Philharmonic, and this new disc is his capstone project. It is actually the latest chapter in a decades-long relationship between composer and orchestra; the Phil premiered, along with many other of his works, Rouse's Pulitzer Prize-winning trombone concerto in 1993. Owing to these years of collaboration, this disc achieves an all-too-uncommon thing: music born from an understanding shared equally by conductor, orchestra and living composer.
Just as these three have found common ground, so has Rouse found common ground between the conceptual and the visceral. The harmonic language of Odna Zhizn, for instance, is tightly controlled and generated using a "code." If these words conjure up frightening images of angular serialist lines, however, fear not: "code" here refers not to forbidding pre-compositional matrices, but to the age-old tradition of encoding a loved one's name into the score by way of note names.
"Odna Zhizn" means "life" in Russian and Russian influences loom large here. Symphony No.3 is heavily indebted to Prokofiev's Symphony No.2, his symphony of "iron and steel." If Prokofiev's was the churning foundry, then Rouse's is its smoldering remains, brooding and charred. As for his Symphony No.4's "code," Rouse cites Tchaikovsky: "Asked whether listeners would devise the…meaning of his Pathétique Symphony, Tchaikovsky famously replied, 'Let them guess.'"
This disc's grand and unified vision is not to be missed.