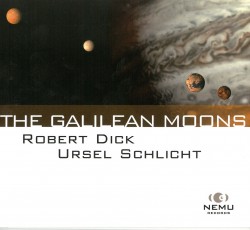 The Galilean Moons
Robert Dick; Ursel Schlicht
Nemu Records NEMU 017 (robertdick.net)
American extended flute master Robert Dick is renowned among contemporary flutists for his five-decade-long contribution to radically expanding the concert flute's sounds, performance practice and repertoire. His work serves as a cornerstone of the flute avant-garde.
First published in 1975, his definitive reference work for flutists and composers The Other Flute: A Performance Manual of Contemporary Techniques remains in print and in demand. His contribution to flute hardware, the Glissando Headjoint®, was inspired by the electric guitar whammy bar. This telescopic flute mouthpiece designed by Dick allows downward glissandi from every note enabling the production of voice-like phrases and otherworldly sounds not heard before emanating from the flute.
Dick makes use of many of the extended flute techniques he's catalogued, as well as his pitchbending headjoint, to evoke four contrasting extraterrestrial soundscapes in the album's centrepiece The Galilean Moons. The four-movement suite co-composed by Dick and pianist Ursel Schlicht evokes, at times viscerally, the distinct physical environments found on each of Jupiter's four moons.
The five other works on this album assay a tremendously wide sonic and emotional vocabulary ranging from Dark Matter, in which Dick recites texts used by Internet spammers through the unusual contrabass flute, to Dick's multi-movement work Life Concert. The latter explores European atonalism, in places haunted by the ghost of the blues, but also enriched by explicit references to African and Indian music. The piano's strings emulate the sound of the kalimba at one point, while the primary theme of the final movement echoes aspects of the Hindustani raga Multani.
Expect a surprising and ear-opening journey from this veteran intergalactic flute traveler.