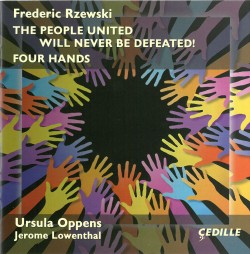 Frederic Rzewski – The People United Will Never Be Divided; Four Hands
Ursula Oppens; Jerome Lowenthal
Cedille CDR 90000 158
The first time I heard Ursula Oppens perform was in a masterclass of Rosina Lhevinne at the Juilliard School in New York. Ursula and I were both students of the legendary Mme. Lhevinne. Listening to this CD I remember the lovely and rich tonal colours Oppens had in her classical repertoire. I am delighted to find the same lyrical palette in the Rzewski. It is so easy to make some of the Rzewski variations harsh and brittle. This is not the first recording Ursula Oppens has made of this work and this CD is far more reflective and poignant. There is a fluidity that connects the disparate movements. Rzewski gives many instructions to the pianist and each variation comes with informative titles: "with determination, delicate but firm, tenderly, in a militant manner," and so on. In this performance each different style, whether folkloric, jazzy or lyrical does unite with sensitive and intuitive musicianship.
Technically it is brilliant playing. From pounding chords to effervescent riffs of extreme delicacy Oppens is in control and commands the keyboard. There are numerous recordings of this work but this CD is definitely in a class by itself.
For Rzewski's piano duo work Four Hands, pianist Jerome Lowenthal, a Juilliard faculty member, joins Oppens. Their touch on the piano is so unified that it sounds like one pianist. It is a quirky piece with lovely moments and this work deserves more performances. However, this duo piano team would be difficult to improve on.
Excellent performances. Highly recommended CD.