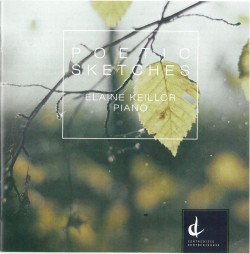 Poetic Sketches
Elaine Keillor
Centrediscs CMCCD 21615
Pianist Elaine Keillor appears on an extensive discography of 28 solo and chamber albums. Her newest solo release Poetic Sketches takes its title from Oskar Morawetz's 1991 composition that includes the rhythmically energetic Prelude to a Drama, Raindrops, Storm, a haunting Prayer in Distress and the lively perpetual motion Olympic Sprinter.
Through a Narrow Window is an intense and convincing work by Estonian-Canadian composer Elma Miller that imparts the composer's concern for the devastation of the environment and our "narrow window" of understanding regarding the ecological destruction of the planet.
John Weinzweig's Netscapes is constructed from repeating motivic fragments that, according to the composer's program notes, require "no further elaboration." Having recorded the work on my own CD released last year, I am still intrigued, now as a listener, by the innovative structure of the piece and the integration of jazz-inflected interludes. Although entirely different in compositional technique and style, Alexina Louie's In a Flash also incorporates jazz-like influences as Keillor's interpretation brings verve to the composer's performance direction of "energetically sassy."
From John Milton's pastoral poem L'Allegro, Patrick Cardy's humorous Quips and Cranks: Five Bagatelles for piano (2004) was the composer's last piece written before his untimely death at age 52. Keillor's clarity of articulation creates vitality as she conveys the charm of these delightful works.
Kelly-Marie Murphy's virtuoso Let Hands Speak (2003) was written for the Honens International Piano Competition and Keillor meets the technical challenges head-on in a spirited driving interpretation as the CD ends with an exciting climax.