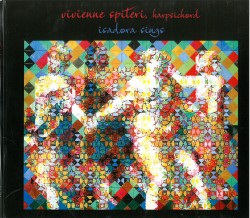 Isadora Sings
Vivienne Spiteri
Isadorart isi 03 (isadorart.qc.ca)
The harpsichord is an instrument of opposites. Of ancient origins, it lives on through recent trends of recreation. Sounding with pointillistic attacks of sharp precision, it can unfold with a rich and flexible resonance and tone. Thick blocks of complex sounds contrast with clear, transparent layers of register and texture. Although known for its role in early music performance, these qualities provide a rich sonic palette for today's composers. Isadora Sings reveals these colours through a series of evocative and dynamic pieces. Vivienne Spiteri and her collaborators pair the harpsichord with electronics, blending them into unique sound fields, extending the instrument beyond its usual capabilities.
Of note is Cinéma, mode d'emploi by Pierre Derochers which, through live sampling, creates a thrilling layering of dense, frenzied activity. Also, in Hope Lee's Tangram, added bass clarinet (played by Lori Freedman) supplements the vastness of the electronics, as well as complementing the harpsichord in its ritual-like meditations and ecstatic outbursts.
Most interesting is the title track, a collaboration between Spiteri and composer Kent Olofsson, which uses an array of rarely heard extended techniques. Hand muting, pitch bending, strumming, plucking, even rubbing the strings to excite harmonics, are echoed in the electronics, creating a vast, spacious world of sound. Shadow and light of varying intensities come into focus, from obscure faintness to blinding opaqueness. An imaginative and unique exploration for the curious listener.
While the pieces can feel a bit lengthy, the artists' vision provides rich sonic rewards for the willing ear.