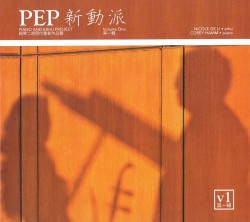 PEP: Piano and Ehru Project
Nicole Ge Li; Corey Hamm
Redshift Records TK437
(redshiftmusic.org)
The Vancouver duo Piano and Erhu Project (PEP), founded in 2011, is by its very nature a cross-cultural enterprise. It represents the ongoing artistic partnership between pianist and UBC music professor Corey Hamm, a champion of avant-garde music, and the erhu player Nicole Ge Li, the concertmaster of the B.C. Chinese Music Ensemble. She is a virtuoso on that Chinese two-stringed fiddle, the most popular of the huqin family. Moreover, as eloquently evidenced on this album, Li is as much at home in recent Western musical idioms as in Chinese ones.
While the combination of erhu and piano may be novel to most Canadian listeners, it isn't news in China. There the practice of a pianist accompanying an erhu soloist reaches back into the last century. The compositions which form the backbone of Li and Hamm's project however, exemplify a more fluid interplay between these two instruments, each an icon of its respective culture. Rather than an inter-cultural vanity project, their collective music-making focuses on polished, musically engaged readings of recently commissioned scores. It's also a reflection of Vancouver's rich, ever-evolving, pan-Pacific music scene.
The repertoire on the album all dates from within the last few years. It explores a wide stylistic range, from the alternately sassy, sizzling Blues 'n Grooves (2014) composed by University of Toronto composition student Roydon Tse, to Edward Top's mysterious, modernist Lamentation (2014), a feast for Li's expressive mastery in the erhu's upper range. Top was a recent composer-in-residence with the Vancouver Symphony Orchestra.
A word about the composers; of the ten featured here most are Canadian, including Jocelyn Morlock, John Oliver, Laurie Radford and Mark Armanini. The polished scores they have produced for PEP are all performed with care and élan, and bear repeated listening. With a treasury of over 40 commissioned works by both Canadian and Chinese composers played to high standards, I'm not surprised that Volume 2 of PEP has already been announced.