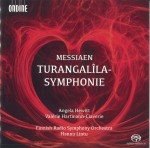 Olivier Messiaen – Turangalîla Symphonie.
Angela Hewitt; Valérie Hartmann-Claverie; Finnish Radio Symphony Orchestra; Hannu Lintu
Ondine ODE 1251-5
I remember well a performance of this stunning 1948 work in the mid-1960s during Seiji Ozawa's time at the helm of the Toronto Symphony (1965-1969). Ozawa later recorded this modern classic with the TSO for RCA to great international acclaim with the composer's wife and sister-in-law, Yvonne and Jeanne Loriod, as soloists. This new recording also has a Toronto connection because it was here in 1985 that Canadian pianist Angela Hewitt came to the world's attention by winning the Toronto International Bach Piano Competition, of which Olivier Messiaen was one of the adjudicators. As we know, she has since gone on to a stellar career.
Turangalîla is taken from two Sanskrit words – turanga, time and lîla, love – and this about sums up the essence of this work, perhaps the most inventive, original and forward-looking piece since Stravinsky's Le Sacre du Printemps. The ten movements increase in complexity as the work proceeds. The odd numbers deal with serious issues, like life and death, the "tragic plane" as the great Arthur Koestler would say. The even-numbered ones like the fourth represent love with a playful scherzo that moves towards the sentimental with Janáček-like harmonies embellished lovingly by the piano solo. Hewitt conjures up marvellous sounds with the extended bird-calls in the sixth movement; this is certainly an apex of the composition, where one simply melts into the heavenly harmonies back and forth between Lintu's virtuoso orchestra and the pianist.
For extra orchestral brilliance Messiaen added a curious electronic instrument, called ondes Martinot (played by Valérie Hartmann-Claverie ), with shivers of glissandos glistening in the love music and some weird barking shouts of joy amidst the overwhelming jollity and magnificent cacophony of the finale, a triumphant movement of total mayhem that somehow reminded me of Strauss' Symphonia Domestica. This is a gorgeous disc, in the four-star category.