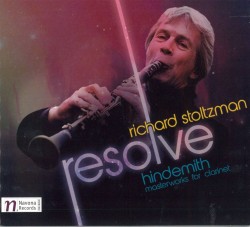 Resolve – Hindemith masterworks for clarinet
Richard Stoltzman; Various artists
Navona Records NV5934
One has to thank Richard Stoltzman, dean of the clarinet in North America, for this latest addition to a long list of recordings, in this instance a celebration of Paul Hindemith's clarinet music. Missing only the Quartet (1938), this disc features the Concerto (1947), the Sonata (1939) and the Quintet with strings (1923, revised in 1954). The last is the most curious of the lot, at times starkly modern and strange, reflecting the composer's early experiments with form and tonality, at others oddly restrained. No clue if this is on account of the later revisions. Recorded two and a half decades ago, it's certainly fun to hear a younger Richard Stoltzman strut about with the E-flat (piccolo) instrument in the middle movement.
It can be lonely work sticking up for Hindemith among colleagues who champion the work of more adventurous composers. I love his music, its assured quality, its exploration of the instruments' possibilities, and okay yes, his adherence to a form of TONALITY! His writing for strings in the quintet is masterful, recalling somewhat the character of his ballet: The Four Temperaments. Tashi, the chamber group co-founded by Stoltzman and Peter Serkin, plays with mad commitment. This is the earliest recording of the set, dating from 1988. He recorded the Concerto with the Slovak Radio Orchestra in 2003.
Now in his early 70s, Mr. Stoltzman seems not ready to pack up his horn. The sonata was recorded just last year, with Yehudi Wyner on piano. If Stoltzman has lost some of his beautiful tonal focus over time, his ability to form la phrase juste has not diminished.
This disc bears a dedication to the late great Keith Wilson, his (and my) one-time professor at Yale. It's a fitting tribute to both men.