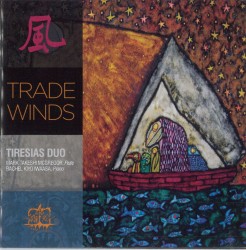 Trade Winds
Tiresias Duo (Mark Takeshi McGregor; Rachel Kiyo Iwaasa)
Redshift Records TK428 (redshiftmusic.org)
Having reviewed Mark Takeshi McGregor's CD of flute ensemble music, Different Stones back in November 2009, and now his most recent 2CD set, Trade Winds, I can say with conviction that I think he is a national treasure! It is not only that he is a great flutist and a truly engaging performer. I heard his recital at the Canadian Flute Association convention in June – it was truly memorable, not only because of his rapport with contemporary repertoire but also because he has a nose for that je ne sais quoi that makes a work a good piece of music. His choice of repertoire, and there is a lot of it – close to two hours – is unerringly good. The fact that the field was narrowed by limiting it to composers with some sort of connection with Japan makes his accomplishment even more remarkable.
There are discoveries here such as Kara Gibbs, whose Untitled Scenes covers the gamut from playful to meditative and serene; the flute sonata by Vancouver composer, Christopher Kovarik, reveals a unique compositional voice, forged through the study of Bach, Prokofiev and Shostakovich; and I was taken completely by surprise by the three works for solo flute by Paul Douglas, a flutist as well as a composer, and McGregor's teacher at UBC. Elliot Weisgarber was another Canadian composer I had never heard of. A clarinetist in the late 1960s, he spent three years in Japan, where he learned to play the shakuhachi. His Miyako Sketches, to me anyway, reveals a thorough absorption of the Japanese musical tradition convincingly transferred to the western tradition.
I would be remiss not to mention Rachel Kiyo Iwaasa, whose superb ease and sensitivity as McGregor's collaborator on the piano contribute substantially to the project. Canadian flutists, get this CD and then get the music performed on it and make it part of your repertoire! Everyone else, get it and start marvelling at the quality of the music of our composers.