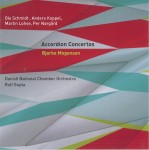 Accordion Concertos
Bjarke Mogensen;
Danish Chamber Orchestra; Rolf Gupta
Dacapo6.220592
Danish accordionist Bjarke Mogensen is the rising young star in the accordion world. Here he performs concerto works representing four decades of composition. This is really is a "coming of age" release for both the performer and the instrument. Mogensen and the colourful Danish National Chamber Orchestra under the direction of Rolf Gupta are brilliant both in their interpretations and tight ensemble nuances.
Any serious student/performer of accordion will have tackled the accordion works of the late Ole Schmidt. Symphonic Fantasy and Allegro, Op.20 is a very early work for classical accordion. The 1958 piece draws its inspiration from Bartók and Stravinsky. Its rhythmic pulse cries out for a modern dance interpretation. Per Nørgård's Recall (1968/1977) is a happy rhapsodic work with its many popular music harmonic and groove references.
The remaining two concertos were composed for Mogensen. The underlying "tick tock" idea in Anders Koppel's Concerto Piccolo (2009) sets the mood in a work clearly rooted in the film score idiom. Martin Lohse's In Liquid (2008/2010) is one of the most original works for accordion I have ever heard. Mogensen makes his brutal technical part sound so easy in this quasi minimalistic exercise in shifting fluid breathtaking sounds.
Mogensen's strength lies in his great independence of line in the contrapuntal sections. Occasionally the higher pitches could use some added bellows support to create a fuller colour but this is a moot point. Mogensen is an artist to experience!