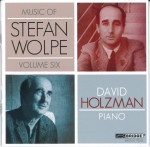 Music of Stefan Wolpe Vol. 6
David Holzman
Bridge Records Bridge 9344 (www.BridgeRecords.com)
Stefan Wolpe (1902-1972) is still one of the underappreciated great composers of the twentieth century. It has been said by someone that Wolpe has all the complexity of Carter or Boulez, but with the added bonus that Wolpe can swing.
Pianist David Holzman is a persuasive advocate of Wolpe, having known and studied with him. This is his second disc for the Bridge label's ongoing Wolpe series, his first from 2002 garnering a Grammy nomination. The works span 1926-1959 and range from epigrammatic to large-scale forms. The breadth of Wolpe's character is in evidence here. An impassioned dramatic sense, rigorous intellect, lightness and wit all have a place.
Four Studies on Basic Rows (1936) is a work for only the most intrepid pianists, exploring particular intervallic relations while making extraordinary pianistic demands. The fourth of these, Passacaglia is a masterly construction of tempestuous drama and brooding introspection. Mr. Holzman's ability to bring clarity to the dense counterpoint and thick textures is remarkable. An entirely different interpretation from Peter Serkin's excellent 1986 recording on the New World label, Holzman brings an earthiness to this important work. The Toccata in Three Parts (1941) is a similarly challenging work, its double-fugue finale again presenting Mr. Holzman's virtuosity.
The disc also features many aphoristic miniatures. Pastorale, a gem from 1941 will surprise those familiar with Wolpe with its gentleness and lyricism. Wolpe's interest in Jewish folk music is represented by the dance-like Palestinian Notebook (1939), written after his sojourn in Jerusalem (1934-38).
One very enjoyable feature of both of Mr. Holzman's Wolpe discs are his own liner notes, with a personable and sometimes amusing quality.
Astounding complexity and unabashed simplicity co-exist in Wolpe's musical world. The concluding miniature Lively. Why not? will put a smile on anyone's face.