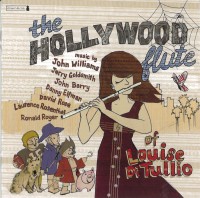 The Hollywood Flute of Louise DiTullio
Louise DiTullio; Sinfonia Toronto; Ronald Royer
Cambria CD-1194 (www.cambriamus.com)
Louise DiTullio, the flutist of choice of many Hollywood film composers, including John Williams, over the course of a fifty year career, has played over 1,200 film scores. On this CD you can hear why she was in such demand: her sound, enlivened by a very organic vibrato, is pure and full and at the same time simple and unaffected. She plays the haunting themes from John Barry's Dances with Wolves with enormous dignity, avoiding the temptation to slip into sentimentality. She is also capable of stunning virtuosity, as in The Lost Boys Chase, from John Williams' score for Hook.
The CD was recorded two years ago with orchestra – Sinfonia Toronto augmented by woodwind and brass players from the TSO – conducted by Toronto conductor and composer, Ron Royer. Royer did all but one of the arrangements and also contributed a four-movement composition, Short Stories, one each for piccolo, concert, alto and bass flutes. In these the orchestration is masterful and the writing for all four solo instruments is fluent and idiomatic.
There is one other piece on the CD that was not composed for film, Laurence Rosenthal's The Piper at the Gates of Dawn, for unaccompanied flute. Rosenthal, who is a film composer, gave a copy to Ms. DiTullio after a recording session. She has since performed it many times. This piece definitely deserves to become part of the standard repertoire for solo flute.