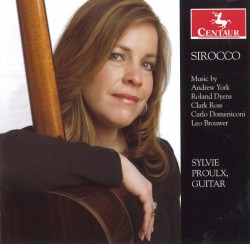 Sirocco - A Warm Breeze from Newfoundland
Sylvie Proulx
Centaur Records CRC 3053 (www.centaurrecords.com)
Here is a delightful solo recording by Canadian guitarist Sylvie Proulx featuring accessible yet virtuosic contemporary music for everyone, even those one or two of you who don't like new music.
Proulx is a technical and stylistic wizard on the guitar. She tackles the non-stop perpetual rapid momentum of the fourth movement Presto in Carlo Domeniconi's Koyunbaba with breathless ease. Her take on the Spanish musical influences of Andrew York's Sirocco are personal yet bang-on accurate. The more Baroque-like qualities of Leo Brouwer's An Idea showcase her solid foundation in a more classical rooted work, and her ability to conjure a more subtle and soothing atmosphere from her instrument. Soothing elements resurface in the first movement of Roland Dyens' Triaela while she gets to interpret more jazz and groove based lines in its other two movements.
The Theme and 10 Variations of Clark Ross' Variations on McGillicuddy's Rant are as wide ranging in style as Proulx's talent. From folk dance to jig to chorale to bluegrass, it was written over a 20 year period yet is so cohesive in spirit and ideas that it sounds like it was composed after an afternoon at the pub.
It is really, really difficult to maintain a listener's interest in a solo recording (or recital for that matter). Proulx's guitar finesse with her excellent choice of repertoire makes "Sirocco" a recording that will keep one's interest for a long time to come.