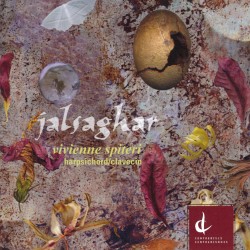 Jalsaghar
Vivienne Spiteri
Centrediscs CMCCD 16410
This new offering from the enigmatic Canadian harpsichordist Vivienne Spiteri is brilliantly unique. Although I do not understand Spiteri's musical approach, I cannot help but respect and applaud her conviction and honesty to her art and her playing. In the five duets and two trios featured, she is able to seamlessly transport her ideas from thoughts to fingers to keyboard, showing a talent so wide ranging that it is mind boggling.
A Who's Who of Canadian composers and performers join Spiteri on her musical journey. In Hope Lee's In the Beginning was the End, accordionist Joseph Macerollo's exquisite long tones juxtaposed against the crisp harpsichord sounds move the composition in an ethereal dimension that only this world-class accordion hero can achieve. The three duo works by John Beckwith are diverse. In both Ringaround with lever harpist Sharlene Wallace, and Lines Overlapping with Kirk Elliott on five-string banjo, a sparse dialogue of overlapping parts creates a tinkling aural world. In contrast, Beckwith's Blurred Lines has Spiteri and violinist Lawrence Beckwith blast into the sonic future. Percussive or florid harpsichord lines against droning, moaning or plucked violin melodies jubilantly cross styles, moods and centuries in this top track. Works by Bruce Mather, Linda Bouchard and Kirk Elliott complete the disc.
A remarkable depth of performance is key here. Spiteri never overshadows or disappears in her ensemble playing. She knows what she wants yet lets others do what they do best.