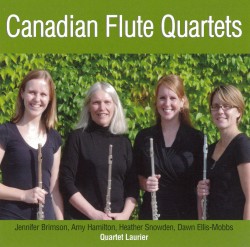 Canadian Flute Quartets
Laurier Quartet
CML Productions CD 104
This recording of flute quartets by Canadian composers was funded by Wilfrid Laurier University in celebration of its centennial year. It can also be seen as a celebration of the work of Amy Hamilton, who has been teaching the flute at Laurier since 1987: the four players are she and three of her students, Jennifer Brimson, Heather Snowden, and Dawn Ellis-Mobbs, each of whom has gone on to pursue post graduate studies in flute in Canada, the U.S. and Britain. Their playing is consistently accomplished and assured, excellent intonation, articulation, and tone quality, even on the bass and alto flutes called for in several of the six compositions on the disc.
The repertoire covers a broad spectrum of contemporary genres, from the minimalism of Sally Norris's Writing the Voice (for piccolo quartet) to the lyricism and piquant and sonorous harmonic vocabulary of Carl Derfler's Flute Quartet No. 1. Even more interesting and individual are the pieces in between: the spellbinding counterpoint of David McIntyre's A Gentle Melancholy, the organic musical architecture of Claude Lassonde's Euphonie Fantasmique, the stunning use of the bass flute as a solo instrument in Euphrosyne Keefer's The Undertow, and the poetic, almost uncanny way that Roberta Stephens captures the mood and essence of a moment in her three short pieces.
I congratulate Quartet Laurier for revealing these wonderful additions to the flute quartet repertoire - a must-have CD not only for flutists but also for composers and orchestrators, and, of course, anyone who loves the sound of the flute.