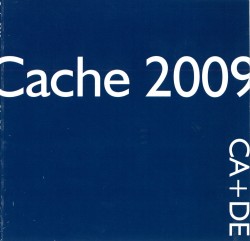 Cache 2009
Various Artists
CEC PeP 014 (http://cec.concordia.ca/cd/)
Each year the Canadian Electroacoustic Community/Communauté Electroacoustique Canadienne (CEC) holds a competition for new works merging acoustic and non-acoustic sounds by young and emerging sound artists. For the 2009 edition of winning musical submissions the CEC collaborated with its German counterpart, Deutsche Gesellschaft für Elektroakustische Musik. They co-produced this double CD set, one for each country: "Cache 2009".
CD I opens auspiciously with the saxophone key flutterings of Syncrétisme (2009) by Québec composer Guillaume Barrette. This work is entirely based on sounds sourced from a multicultural array of instruments including saxophone, violin, piano, gangsa and ugal (the latter two being metallophones of the Balinese gamelan).
In the next track Montrealer Tomas Furey's Tes Régions (2008) builds its musical case on elusive strummed guitar chords around which various other acoustic bell, string, knocking, rolling, crumpling and electronic sounds accumulate. Furey seems to be reaching here for a dream-like atmosphere tinged with tonality which serves to bolster the emotional quality of the music.
Olivier Girouard's lengthy and cinematic Suite_04 (2009) shifts back and forth between several sonic tableaux: live recordings of public spaces and soundscapes produced in the studio. A third "text" appears in the form of quiet intimate voices from the soundtracks of a Wim Wenders film and from a Pedro Almodovar film. The title refers to a J.S. Bach dance suite on which this work's structure is modeled. Girouard's objective appears to be to access a wide variety of the world's sounds and transcribe them into his work.
Space allows me to mention only one work from the German CD: the gorgeous Nachtschatten (2008) by composer Alexander Schubert. This dramatic "tape piece" is based on sound material derived equally from both instrumental and electronic sources. In Nachtschatten (Nightshade, a genus in the extensive nightshade plant family) the composer creates a rich chamber ensemble acousmatic texture. Schubert also foils expectation by undercutting the common musical practice of slowly adding sounds in order to build increasing density. Rather he maintains a moderate sound event tempo thus keeping the texture fairly homogenous. The work ends with several rich and crunchy chords I have trouble describing other than with the word "yummy".
The 13 stimulating and diverse works in this package reminded me of the excitement I felt in the 1970s when I produced such fresh sounds and electroacoustic constructions myself at York University's Electronic Studios. Nostalgia for les temps électroacoustique perdue, perhaps?