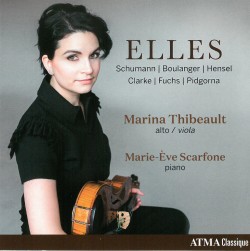 ELLES
Marina Thibeault; Marie-Ève Scarfone
ATMA Classique ACD2 2772 (atmaclassique.com/En)
Listen
Trois romances op.22 I Andante molto
Sonate I Impetuoso
The Child Bringer of Light
Read the Review
The following review is an excerpt from Strings Attached (May 2019) which can be read in its entirety here.
Clara Schumann's Three Romances Op.22 appear again on another recital of works by women composers, this time as the opening tracks on ELLES, featuring the Canadian duo of violist Marina Thibeault and pianist Marie-Ève Scarfone (ATMA Classique ACD2 2772 atmaclassique.com/En). There's no word on the transcription source (a viola version was published in 2010) for this or the following work on the CD, the Trois pièces pour violoncelle et piano by Nadia Boulanger. Written in Boulanger's mid-20s, some seven years before she gave up composition to concentrate on teaching, the piano again features prominently in three brief movements, two of which were transcriptions of organ improvisations.
A very brief setting of a Goethe poem by Fanny Hensel, Mendelssohn's highly talented sister, precedes the two major works on the disc: Rebecca Clarke's Sonata for Viola and Piano from 1919; and the Sonate Pastorale for solo viola by the American violist Lillian Fuchs. A professional violist, Clarke left a wealth of viola works that finally seem to be attracting the amount of recording attention they richly deserve. Written in New York, her sonata is redolent of contemporary French music.
In all the viola and piano works, Thibeault plays with a pure tone and a smooth melodic line, ably supported by Scarfone; there are times, perhaps, when a stronger attack could be used. That, however, is exactly what we get in the two unaccompanied works that follow. Fuchs wrote little in a long life (both she and Clarke made it into their 90s) but the three-movement Sonate is a simply terrific work that brings the best playing on the CD from Thibeault.
Another solo work that began as a piece for cello, young Canadian composer Anna Pidgorna's The Child, Bringer of Light from 2012, ends the CD. Its eight continuous sections use a variety of techniques to great effect and once again show just how talented a player Thibeault is.