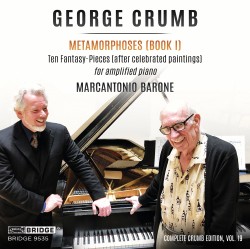 George Crumb Vol.19 – Metamorphoses (Book I)
Marcantonio Barone
Bridge Records (bridgerecords.com)
Listen
III. Crows Over the Wheatfield by Vincent Van Gogh
I. Black Prince by Paul Klee
Read the Review
The following review is an excerpt from Editor's Corner (July 2020) which can be read in its entirety here.
It was in April 2003 that I had another "brush with greatness" thanks to New Music Concerts when George Crumb and his family came to Toronto to work with our musicians. Crumb had been an important part of the NMC family from the very early days to the extent that four of his pieces were included on an extended European tour in 1976. The first Crumb portrait concert had taken place at Walter Hall in 1974, with another at Premiere Dance Theatre in 1986 that included the premiere of An Idyll for the Misbegotten, dedicated to Robert Aitken, and then another at Glenn Gould Studio in 2003 as mentioned above. On that occasion Teri Dunn was featured in Federico's Little Songs for Children and daughter Ann Crumb sang the recently completed cycle Unto the Hills. Crumb was 74 at the time and he showed no signs of slowing down creatively.
It seems that is still true and the latest Bridge Records release George Crumb Vol.19 is testament to this (bridgerecords.com/products/9535). On it Marcantonio Barone performs Metamorphoses (Book I) (2015-2017) subtitled "Ten Fantasy-Pieces (after celebrated paintings)" for amplified piano. Amplification has often been an important aspect to Crumb's instrumentation – the flute in An Idyll for the Misbegotten, the string quartet in Black Angels, and in almost his entire extensive piano repertoire. In most cases this is not to make the music loud, but rather to make the quietest subtleties of harmonics and extended techniques audible. The pianist is required not only to play upon the keyboard, but to venture inside the piano to pluck and strum and dampen strings, use fists, brushes, yarn sticks and other materials to caress and strike various wire, wood and metal surfaces, vocalize and employ a variety of small, mostly percussion, instruments to expand the solo piano into a real orchestra of timbre.
Highlights of the set for me include Goldfish (Paul Klee, 1925) with its echoes of Debussy's Poissons d'or and sustain-pedal, open-string resonance, Crows over the Wheatfield (Vincent van Gogh, 1890) with eerie cawing from the pianist, The Fiddler (Marc Chagall, 1912/13) with zither-like string strumming and dancing melodies, Contes barbares (Paul Gauguin, 1902) featuring Tahitian incantations and percussive outbursts, and The Persistence of Memory (Salvador Dalí, 1931) with nods to some of Crumb's favourite pieces, Mozart's Clarinet Concerto, Beethoven's Op.110 and the iconic hymn Amazing Grace. There are many references to Crumb's earlier compositions and in many ways these new works sound familiar. One sometimes wonders "Why does Grandpa keep telling the same stories?" but listen carefully; you'll find vast new worlds buried within them.
Although Book I is dedicated to Margaret Leng Tan, Crumb was evidently so taken with Barone's performance that he is the dedicatee of Book II, completed earlier this year, the composer's 91st. So, still not slowing down! I look forward to hearing the sequel and to future Bridge releases documenting the ongoing legacy of this great American composer.