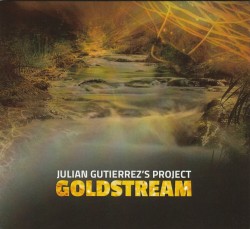 Goldstream
Julian Gutierrez's Project Goldstream
Independent (juliangutierrezsproject.bandcamp.com/releases)
Following the well-known saying "if you can't beat 'em, join 'em," why beat the summer heat when you can make the best of it with this fiery, scintillating mix of tunes? Cuban-born pianist Julian Gutierrez brings the best of both Latin and jazz music on his latest album, melding the two worlds together flawlessly. He adds his own twist to the record, arranging the collection of songs for a big band which brings a whole new, expansive sound to the repertoire. All tunes are originals penned by Gutierrez and arranged by both him and bassist Jean-François Martel.
Duality is a strong theme throughout this album, not only from a genre-based perspective but also in an imaginative way. Gutierrez explains that the music reflects "…nature, both the landscapes of my homeland… and the beauty and poetry that emanate from the landscapes of Canada, my host country." This duality is especially noticeable in pieces such as Canard Goûteux, where the rhythmic influence of his Cuban roots, seen in Martel's bass line combined with the groove of drummer Axel Bonnaire, is blended with the alternating mellow chord progressions and blazing piano riffs of Gutierrez, reflecting more of the Canadian, tempered side within the chords. Featuring a full lineup of stellar international musicians, the prolific pianist's vision for this album is propelled to new heights. Jazz lovers looking for a foray into a pleasant musical landscape, this is for you.