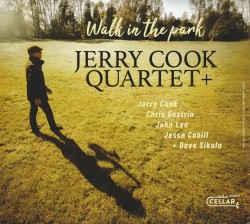 Walk in the Park
Jerry Cook Quartet +
Cellar Music CM091919 (cellarlive.com/collections)
Vancouver is known for parks – this disc could aptly accompany a real or imagined walk in the park, romantic possibilities included! Quartet leader/tenor saxophonist Jerry Cook hopes to "help relax, reflect, and recharge." In a melodic, restrained style, there is nevertheless plenty of expressive, imaginative playing in both standards and Cook's original numbers. Other quartet players include Chris Gestrin, piano, John Lee, bass, and Jesse Cahill, drums; with added musician Dave Sikula, guitar, they coalesce in a blues-inflected jazz sound, achieving the recording's purposes well. Cook's well-controlled slightly edgy tone distinguishes his title track, while pianist Gestrin is confident in accentuation and chord substitution. In Soul Eyes I especially enjoyed Cook's lyrical, tastefully-ornamented melodic delivery. Soul is more obvious in Scarlett Ribbons, which builds impressively from opening gospel harmonies to greater complexity while maintaining style and mood.
Contrasting is Cook's Blues, a medium-tempo swing number with agile sax, guitar and bass solos where Sikula's style is smooth and assured. As for the rhythm section, there is a playful touch in Hello My Lovely where bass and drums are left all alone, just to trade fours for a while. Bassist Lee nails a hard-driving figure in Summertime, suggesting the oppression underlying this well-known number. And overt seriousness is established in Nature's Lament's solemn, modal opening, followed by the insistent, urgent Latin drum beat supporting a plea for environmental change.