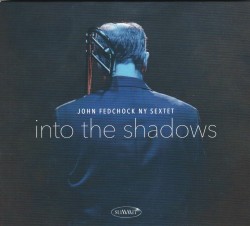 Into the Shadows
John Fedchock NY Sextet
Summit Records DCD 765 (summitrecords.com)
New York City-based John Fedchock has long been an internationally regarded trombonist, with an extensive list of credentials. On his tenth recording as a leader, Fedchock also serves as producer/composer/arranger in order to create a magnificent celebration of the jazz sextet. Perhaps better known as the leader of his multiple Grammy-nominated New York Big Band, Fedchock has chosen here to highlight the opportunities for musical and unique creative writing options while maintaining a sleek and mobile blend. Fedchock first debuted his sextet 20 years ago, and the gifted members include first-call jazz artists Scott Wendholt on trumpet and flugelhorn; Walt Weiskopf on tenor saxophone; Allen Farnham on piano; David Finck on bass; and Eric Halvorson on drums.
Of the eight compositions here, five are written by Fedchock and three are well-known standards that are rife with harmonic/dissident arranging choices – maintaining a healthy balance between pure swinging and improvisational exploration. Up first is the high-octane RSVP, a rhythmic, Latin-infused leader-penned piece, cleverly utilizing the changes from the standard Invitation and featuring masterful soloing from all, most especially tenorist Weiskopf who burns like a bonfire throughout. Alpha Dog's Art Blakey-ish shuffle (kudos to Halvorson) is a total delight, replete with masterful solos from Fedchock, Wendholt and Farnham.
The languid title track plumbs the depth and solitude of the creative process itself, while the sextet displays some of the most symbiotic playing on the project, parenthesized by Fedchock's sonorous trombone. Finck's considerable skill with Latin modalities is clearly ascertainable on the compelling arrangement of Star Eyes (Raye/DePaul) and the up-tempo closer, On the Edge, embraces everything that the art form of jazz is about and also transports this sacred musical expression boldly into the future.