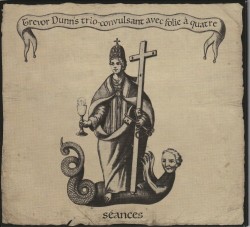 Séances
Trevor Dunn's Trio-Convulsant avec Folie à Quatre
Pyroclastic Records (store.pyroclasticrecords.com)
Trevor Dunn has an eclectic profile, ranging from playing electric bass in the experimental rock band Mr. Bungle to composing and recording a set of chamber music pieces, Nocturnes, in 2019. He first formed Trio-Convulsant in the mid-1990s, then reformed it briefly in 2004 with then unknown, now celebrated, guitarist Mary Halvorson and drummer Ches Smith, both present for this 2022 reunion. Folie à Quatre fleshes out Dunn's complex compositions and adds additional improvising heft, with violinist Carla Kihlstedt, clarinetist Oscar Noriega, cellist Mariel Roberts and flutist Anna Webber.
The compositions are challenging in both their subject matter and musical complexity. Dunn draws inspiration from a bizarre and banned 18th-century French religious cult called Les Convulsionnaires de Saint-Médard, matching the chaos of their sado-erotic hysterical practices with compound time signatures (15/4, 9/4) and overlays of different tempos and keys. In the CD's opening moments, Webber's piping, elusive flute is joined by abstracted strings; others gradually enter and then Dunn and Smith suddenly introduce a pounding rhythmic pattern, shifting from Debussy to Megadeth in a minute. The later Eschatology, in contrast, is a subtle string-weave of Halvorson, Kihlstedt and Roberts in which disparate rhythms and tonalities achieve a continuous flow.
What makes it successful is Dunn's intense musicality. His sudden contrasts arise organically from his subject matter, and his musicians, masters of both execution and improvisation, celebrate the challenge and the interaction.
Émigré Canadian pianist Kris Davis' Pyroclastic label is developing a remarkable record for releasing music that's both conceptually imaginative and brilliantly realized. This one is no exception.