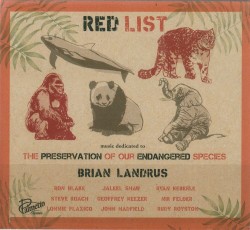 Red List – music dedicated to the preservation of our endangered species
Brian Landrus; Various Artists
Palmetto Records PM2023 (brianlandrus.com)
With the release of his 11th recording as a leader, highly respected multi-reed player, arranger and composer, Brian Landrus, has not only created something of incredible musical beauty, but is simultaneously highlighting the looming global crisis of species extinction. There are 13 compositions here written by Landrus, representing 13 endangered species on the Red List that could be lost forever. Landrus is collaborating with the organization Save the Elephants and is joined here by half a dozen horns and a stellar rhythm section.
First up is Canopy of Trees – a percussive journey through the majesty of an ancient forest or jungle, made all the more mystical by Landrus' complex solo and the superb arrangement. The title track reflects chaotic energies and also the brave push back against obliteration, while Geoffrey Keezer's intriguing synth patches elicit ancient sensations… a connection with Mother Earth. The ensemble is in complete symmetry, punctuated by Landrus' dynamic soloing. Giant Panda features a well-constructed baritone solo by Landrus, which effortlessly segues into Nocturnal Flight, which is defined by eloquent, elegant guitar work from Nir Felder and parenthesized by sumptuously arranged horns as well as a spellbinding piano solo from Keezer.
Save the Elephants is a standout, and with an irresistible reggae-ish motif, Felder's rhythmic guitar, Keezer's Hammond B3 and potent percussion and drumming from John Hadfield and Rudy Royston as well as well-placed vocals, one can almost envision the beautiful elephants strolling regally through the African Savanna. Of special beauty is Only Eight, which begins with a resonant and complex bass solo from the iconic Lonnie Plaxico and morphs into a spacious, etheric expression – a shared vision of a better, more caring world.