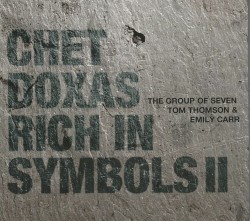 Rich in Symbols II – The Group of Seven, Tom Thomson & Emily Carr
Chet Doxas
Justin Time JTR8636-2 (justin-time.com)
Chet Doxas is a composer and saxophone player born in Montreal and currently living in Brooklyn. His 2017 album called Rich in Symbols was dedicated to New York's Lower East Side art movement of the 1980s. With this current album, Rich in Symbols II, Doxas has composed musical interpretations of seven Canadian paintings from the Group of Seven, Tom Thomson and Emily Carr. Doxas spent a great deal of time with each painting and took music manuscript paper and a notepad to record his thoughts. Rich in Symbols II has elements of jazz and improvised music supported with environmental "field recordings," Joe Grass' pedal steel guitar and banjo, Jacob Sacks' piano and mellotron. Each piece sounds like a sonic journey reminiscent of Pictures at an Exhibition (we also hear footsteps and other environmental sounds throughout). Doxas' melodies are both whimsical and beautiful and lead to sparse, frenetic improvisations. For example The Jack Pine begins with a faint tinkling piano, some minimalist guitar and a saxophone which sounds like it is being played through a staticky radio that is down the hall in another room. The piece becomes quite gorgeous when we hear the full sax sound after the three-minute mark.
Rich in Symbols II is an intriguing and highly original album with many subtle colours throughout.