Legendary as the country where every type of Western music has some followers and where every disc extant is rumoured to exist in some form or another, Japan likewise has a healthy jazz and free music scene. This appreciation extends to homegrown improvisers, but few are known throughout the larger musical world. Not only do these discs demonstrate how this situation is changing as Asian players interact with more Westerners, but some outsider players have also moved there since they found the country's audiences to be sympathetic to their music.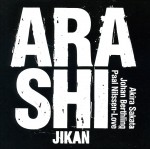 In the former group, one of the most prominent is Hiroshima-born alto saxophonist/clarinetist Akira Sakata, 74, who's been improvising in an individual free jazz style since the early 1970s which also involves his off-the-wall vocalizing. A marine biologist as well as a musician, Sakata organized the co-operative trio Arashi a few years ago with Norwegian percussionist Paal Nilssen-Love and Swedish bassist Johan Berthling. The exciting Jikan Arashi (PNL Records PNL 045 paalnilssen-love.com) is its newest disc. Reminiscent of the heyday of "The New Thing" sound explorers, on saxophone, Sakata has seemingly never found a tone he couldn't split or a timbre he couldn't overblow. This is demonstrated most convincingly on the extended Yamanoue-no-Okura with a solo that's all snarls and growls, and that inflates with pressurized vibratos and propelled reed bites each time he outputs a phrase. In sympathy, Betherling's accelerated strumming and Nilssen-Love's constant thumping, fluidly pulse and push with the same intensity. Besides the trio's sliding and shredding instrumentally up and down the scale, here and elsewhere Sakata vocalizes guttural syllables that wouldn't be out of place on a Japanese horror film soundtrack. Eventually, gurgles and mumbles that involve the guts and throat more than the mouth and lips give way to small instrument whumps and cymbal lacerations from the drummer culminating in triple intensity. While the saxophonist's frenetic Aylerian screams and pressurized stutters mix with Nilssen-Love's constant pounding on the title track, he also shows off restrained chalumeau-register clarinet storytelling on Tsuioku, partnered by cymbal slides. Despite his concluding shrilling output and a return to guttural mumbling, Jikan is another indication of why the reedist has maintained his creativity over the decades.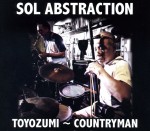 Another first-generation Japanese improviser who has maintained a similar musical ingenuity is Yokohama-born percussionist Sabu Toyozumi, two years Sakata's senior. Having worked over the years in different-sized assemblages with local and foreign Free Music players, Sol Abstraction (Sol Disk SD 1901 soldisk.com) is a stripped-down live date from the Philippines where he goes head-to-head with American alto saxophonist Rick Countryman on nine tracks. A committed free jazzer, the saxophonist's collection of multiphonics, irregularly pitched vibrations, tension- building and sopranissimo screams are met with expressive touches, resonating conga-like hand slaps brought into play alongside claps and swing affiliations. Although only the extended Integrity of Creation includes what could be termed an albeit brief drum solo of claps, clatter, press rolls and rattles, Toyozumi's constant rumbles and patterns keep up with Countryman who crams as many notes as he can into every bar, pulls his split tones as far as possible without breakage and triple tongues into the stratosphere before ending with crying flutter tonguing. The drummer's skill using the erhu or spike fiddle is also displayed on a couple of related tracks as he cannily manages to mirror the saxophonist's circular textural screams and squeaky overblowing with two-stringed slices, even as place-marking drum beats remain. The two also manage to append a relaxed shuffle groove to the feverish sallies that make up Broken Art Part I and Part II, but the best expression of Toyozumi's – and by extension Countryman's – versatility occurs on the three parts of Ballad of Mototeru Takagi. A threnody for a deceased saxophonist colleague, the suite moves from tongue-slapping, reed-shaking theme development to repeated diaphragm-intense cries from the saxophonist, as the drummer's narrative contribution is cymbals tolling with narrow clangs. Finally Toyozumi's slaps rebound at a choppier pace as Countryman elaborates the now passive theme with melancholy sound spurts.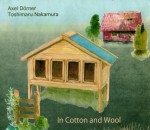 Moving on a generation and compounding Japanese improvisers, almost-clichéd fascination with electronics is In Cotton and Wool (Ftarri ftarari-980 ftarari.com), a duet between the audio feedback generated by Toshimaru Nakamura's no-input mixing board and the trumpet and electronics of Berlin's Axel Dörner. Moving past expected musical tropes, or for some music, the program mixes manipulated loops of industrial-strength voltage feedback from Nakamura's machine to such an extent that the outcome appears to possess the strength and velocity of both a high-speed locomotive and a tropical thunder storm. This is particularly true of the extended Hemp, especially when extended electronic rumbles nearly attain drum-beat qualities, with Dorner`s response a combination of dissociated peeps and an intermittent moose-call-like ending. Variations of this strategy play out during the subsequent selections, with, for instance, grace notes from the trumpet audible through a cloud of heavily amplified drones on Silk, before the track speeds up to the extent that it could be the sound of a car crash captured in real time, until the noise is abruptly cut off. The loops of blurred whistling and puffs are resolved on the final track, Cashmere, as narrow tongue splatters from the horn are overshadowed by blurred input-output pulses from the mixing board to create an ambulatory synthesized exposition which Dörner amplifies with capillary bites and echoes until brass qualities are buried under synthesized pulsation created by both his and Nakamura's electronics.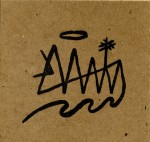 More general acceptance of projects like Nakamura-Dörner's is what persuades even more experimental players to settle in Japan. Case in point is Saskatchewan-native Tim Olive, who lives in Kobe. Using his preferred tools of magnetic pickup and electronics, Olive joins with Beijing-based Yan Jun, who manipulates electronics and field recordings, on Brother of Divinity (845 Audio 845-10 845 audio.bandcamp.com), for a fascinating 28-minute sound collage that admittedly makes even the previous discs appear conventional. A rare electronic session that culminates with foreground resonance after synthesizing the impulses created by the duo, Brother of Divinity works its way from loops of crackles and pops, as distant voice singing or beating out rock-styled music comes in and out of aural focus. As ring modulator-like gonging-feedback loops become more prominent, the blurry interface also takes on percussive side scratches and bounces until what initially seemed to be neverending pulses splinter into chirps and thumps in double counterpoint. With its keyboard-suggested bent-note narrative, the final section becomes more reductionist with metronomic timepiece-like clicks, suggesting a stain spreading slowly on a yielding surface, crunching beats and church-bell-like pealing, project with synthesized pulsations into conclusive buzzes and shuffles.
If Japanese free improvisers are little known outside of a small coterie, imagine the situation for a Korean saxophonist committed to experimental music. Yet An Eternal Moment (NoBusiness Records NBCD 115 nobusinessrecords.com) is a 76-minute live 1995 Yamaguchi concert by Japanese percussionist Midori Takada and alto saxophonist Kang Tae Hwan, visiting from Seoul. One track is an extended solo saxophone meditation and the last, Dan-Shi, posits what sonic challenge would result if sax/drum duos like it mixed narrow, high-pitched, sometimes barely audible reed explorations, with gamelan-like marimba pops and sizzling cymbal hisses, besides regular drum beats. However, the key paring is the nearly 42-minute Syun-Soku, During the exposition, Hwan's strained reed vibrations work up to lacerating split tones and down to narrowed ghost notes, then up to bagpipe-like overblowing timbre-smears as Takada hits tuned aluminum bars and shakes reverberating cymbals. Rhythmic drum taps spark thin chirps from the saxophonist, who soon seems able to simultaneously output a slim, whistling tone and more rounded coloratura variations. Reaching the first climax at mid-point, the narrative slows down to the extent that Hwan's dissonant slurps seem to be being pushed back into his horn's body tube. Crashing ruffs from the percussionist become non-metered whacks in opposition, helping to transform reed multiphonics into low-pitched trills that neatly affiliate with unforced cymbal patterns, leading to a finale that links splash cymbal power with retrained reed snarls.
Politically and sociologically Asia is no longer the Mysterious East for most Westerners. These CDs could provide a similar demystification of sound when it comes to improvised music.