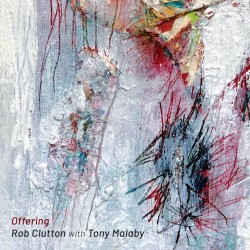 Offering
Rob Clutton with Tony Malaby
Snailbongbong SBB006 (robclutton.bandcamp.com)
Bassist Rob Clutton has long been a mainstay of Toronto's jazz community, as diligent supporting player in the mainstream and a creative catalyst in more adventurous settings. Clutton leads his own Cluttertones, combining songs, synthesizer and banjo, and he's explored individualistic inspirations on solo bass. Here he's playing a series of duets with New York saxophonist Tony Malaby, a fellow member of drummer Nick Fraser's Quartet, and a standout soloist, whether for the animated gravel of his tenor or the piquant air of his soprano.
That pared-down instrumentation reveals its rationale on the hymn-like title track, one of Clutton's seven compositions here, his bowed bass complementing Malaby's warm, airy tenor sound. On Refuge, as well, the two reach toward the grace and intensity of John Coltrane. Often admirably concise, the two can also stretch out, extending their spontaneous interaction on Crimes of Tantalus.
Among the three improvisations, Swamp Cut has both musicians reaching deep into their sonic resources, Malaby's grainy soprano meeting its double in the high harmonics of Clutton's bowed bass. The rapid-fire Twig has Clutton to the fore, plucking a kind of compound ostinato that fires Malaby's lyricism. Swerve has as much focused energy and raw expressionism as bass and tenor might provide, while Nick Fraser's Sketch #11 possesses a special melodic attraction.
Throughout, one hears the special camaraderie that two gifted improvisers can achieve in a stripped-down setting, while Clutton's compositions could support a larger ensemble and further elaboration.