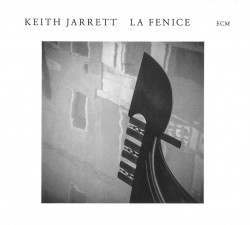 La Fenice
Keith Jarrett
ECM ECM2601-02 (ecmrecords.com/catalogue/1532415893/la-fenice-keith-jarrett)
A new release from the Keith Jarrett concert archive is always a welcome occasion. Such is the case with La Fenice, the ECM label's latest offering from the virtuoso pianist, which comes to us as a two-disc set featuring an improvised solo concert recorded at Gran Teatro La Fenice, Venice, in 2006. By this time, Jarrett had adopted a concert format during which he would improvise a series of relatively short pieces, as opposed to the long uninterrupted sets that he favoured on earlier iconic recordings such as La Scala and Bremen/Lausanne.
Interestingly though, Jarrett begins La Fenice by breaking these self-imposed format limits, as he launches into a mostly atonal musical exploration which clocks in at over 17 minutes, until its final unexpected resolution in F-sharp Major. In Part 3, the pianist visits one of his more familiar trademark styles wherein his left hand lays down an ostinato pattern while the right hand improvises fluid gospel/blues lines. Rhythmic clarity, direction and superb melodic development are present throughout, as Jarrett pulls off one amazing pianistic feat after another with apparent ease. The music then segues into an achingly beautiful ballad, possibly one of the most breathtaking improvised pieces he has ever recorded.
On disc two, the pianist breaks up more complex harmonic territory with a bittersweet Gilbert and Sullivan tune (The Sun Whose Rays), before proceeding on to a straight-out blues romp. We are also treated to several encores, including My Wild Irish Rose, Stella by Starlight and a stunning Jarrett original, Blossom. On Stella, the pianist is clearly enjoying himself as he weaves complex bop lines over a left hand walking bass, while also tapping his foot on beats two and four: a one-man band!
All told, La Fenice is a deserving addition to Jarrett's long and distinguished recording legacy.