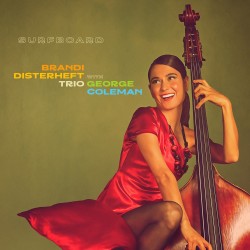 Surfboard
Brandi Disterheft
Justin Time JTR 8626-2 (justin-time.com)
The theme of bassist/vocalist Brandi Disterheft's fifth album as a leader, Surfboard, is ostensibly Brazilian jazz, but this writer finds the recording's second underlying theme to be a love note to New York City. This could be a projection on my part, but hear me out, as it nonetheless provides an interesting lens through which to listen. Disterheft, special guest drummer Portinho, and pianist Klaus Mueller are all transplants to this "jazz mecca." The move is a logical choice for many musicians, in this case Disterheft hailing from Canada, Mueller from Germany (via Asia and South America), and Portinho leaving Brazil in the 70s for the U.S. The second featured guest, Memphis born saxophone legend George Coleman, who made a name for himself playing with B.B. King, Ray Charles and later Miles Davis, is a veteran New York resident.
Portinho, representing all things Brazil, and Coleman being an ambassador for the New York side of things, give Surfboard a sense of balance that allows it to contain 14 unique tracks without ever becoming monotonous. Its title work, an upbeat piece by Antonio Carlos Jobim, is balanced by an interlude to the rhapsodic Coup De Foudre, which continues the Brazilian theme and introduces Coleman's playing. Coleman shines on the fourth track My Foolish Heart, which continues the theme of alternating straight-eighths numbers with swung ones. These alternating themes curate a unique album that's "radio friendly" while maintaining its artistic integrity.