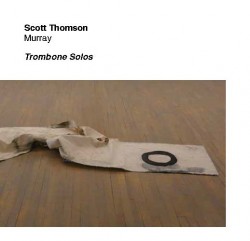 Murray: Trombone Solos
Scott Thomson
Tour de Bras TDB90036CD (tourdebras.com)
Trombonist, conceptualist, composer of site-specific works and programmer, Scott Thomson takes a speculative approach to improvised solo performance. In April 2014, he launched his first Trombone Solos at Odd Hours in Montreal's La Poêle dance studio at times like 4 June, 9:11 am. Since then he has performed over 130 such concerts, often for a single listener. In 2016, the Calgary label Bug Incision released Heures Indues, a CD with three performances; Murray comes from a 2019 series in the Montreal studio of Thomson's late friend and collaborator, the painter and drummer John Heward.
Thomson's solos don't explore a single idea; rather, they're perambulations, here two half-hour long journeys through a variety of impulses and inspirations, with shifting melodies and timbres that can burst forth with marching band gusto or alight in a singing high register. Sometimes there's a resonant partnership with some other material, whether an appended mute or something like furniture moving in the room. Sudden volume shifts suggest that Thomson is playing two trombones, one blasting loudly into the microphone, the other a distant, whispered aside.
The CD is packaged with cards reproducing a few of Heward's starkly powerful abstractions, and the echoes of his studio may play a role in these performances, thematic as well as sonic. There's something dramatic here, moods developing and changing along with the materials, a moving meditation in a terrain full of surprises, the shifting interior monologue of a musical flâneur.