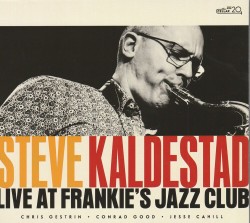 Live at Frankie's Jazz Club
Steve Kaldestad; Chris Gestrin; Conrad Good; Jesse Cahill
Cellar Music CM072321 (cellarlive.com)
Live recordings often give the listener a bit of an extra feeling for the music, a certain je ne sais quoi that studio albums may not necessarily convey. Star saxophonist and music educator Steve Kaldestad's newest release is, in fact, a live recording of his show at Frankie's Jazz Club in Vancouver; the energy rolling off the band can fully be felt throughout this album. Kaldestad mentions that the whole point of this recording was to "document the renewed feeling of urgency and gratitude emanating from the quartet" while being able to play together properly after a two-year hiatus due to the pandemic. The sheer joy from musicians getting to do their thing together on stage and instruments blending with each other is truly palpable while giving this a listen.
Backed by a fantastic group of musicians, featuring Chris Gestrin on piano, Conrad Good on bass and Jesse Cahill on drums, the pieces in this live set are transported to new heights and filled with a positive energy that could penetrate even the gloomiest of mindsets. The record features a unique and captivating improvisation on a jazz classic, Con Alma, by Dizzie Gillespie; a mellow saxophone melody soars over a captivating piano and bass line. Among the stellar collection of pieces, Kaldestad's own Equestrian Interlude stands out as well, a rhythmically groovy tune that gets your head bopping right along. A great addition to any jazz lover's collection.